| | |
| --- | --- |
| | Totty Roots |
Totty Tottey Tottye Totly Toty Tottie Tolty Tolly Tody Toddy Toddie &etc.
Totty Records of Muskogee County Oklahoma
(Digging for our Totty Roots and finding the leaves on our Totty genealogy tree)

You are the WelcomeVisitor to this Site.


Dedicated to the Support of FREE Genealogy Research on the Internet
Do NOT Link these Web page's to any fee or pay sites!
IMPORTANT: See Copyright Restrictions violation's should be reported to totty-owner@totty-families.org
THANK you for stopping in to visit our Web Site! Take a look around and enjoy your Visit!
In the asking comes sharing;
in sharing comes knowledge;
in knowledge comes wisdom lasting a lifetime!





REMINDER: to Book Mark this Page!

Introduction

The Totty Roots Family Records and document pages is a collection of our TOTTY Roots mailing list records and research by the TOTTY Roots Research Group. If you have any records to would like to share with us, please contact our TOTTY Roots Administrator and Web Page Editor. We at TOTTY Roots are dedicated to protecting the rights and privacy of our living relatives. We encourage all involved in Genealogy Research to omit Vital information on any of our family members who are still LIVING, UNLESS you have their express and or written permisson. We need to protect our descendants, while we search for our ancestors. PLEASE do your part to protect and respect the privacy of everyone when placing information on the web.





The County of Muskogee was created in 1898 from the Creek Lands. The County Seat is located in Muskogee, Oklahoma where some of the TOTTY'S and their descendants lived.


Census Records
---

2001 May 28th Obituary Norma Jean (TOTTY) STACK [Muskogee Phoenix & Times Democrat, Monday 28 May 2001, page 6 Section A, annotated by Birdie (Totty) McNutt]


Norma Jean (nee Totty) Stack, 74, passed peacefully in the hands of the Lord on Thursday evening, 24 May 2001 at the Pleasant Valley Nursing Care Center. Norma was born in Hoyt, Oklahoma 26 September 1926 to Clifton and Ora (Hisaw) Totty.
She was a 1947 graduate of Muskogee General Hospital School of Nursing, and
worked for Dr. Jack Reynolds for several years and for the V. A. Hospital,
retiring in 1987.
Norma was preceded in death by her mother and father, Ora and Clifton Totty,
by her dear step-mother, Ruby Totty, her beloved husbands, Raymond May Rhoden
and Dail Stack and by two brothers, J. E. Hopkins and Bob Totty and his wife,
Sue.
Those left to cherish her memory are her son and daughter-in-law, Raymond
Gene and Patty Rhoden of Fort Gibson; two step-daughters and their husbands,
JoAnn and Dino Sanders of Kingfisher and Judy and Wayne Milligan of Muskogee;
three sisters, Pat Carpenter and husband, Don of Oklahoma City; Alice Garner
and husband, Jack of Shreveport, Louisiana; and Jo Benton of DeQueen,
Arkansas; four brothers, Leo Totty and wife, Bonnie of Tulsa; L. T. Totty and
wife, Samye of Orange, California; Jarrett Totty and wife, Barbara of Sierra
Vista, Arizona; and Adrian Totty and wife, Billie of Muskogee; five
grandsons, Jeramy Rhoden and his wife, Marsha, Dwayne Milligan, Tommy
Milligan and his wife, Jenny and Jerry and Jackie Jenkins; three
grand-daughters, Amy Sallee and her husband, Shannon, Alisha Milligan and
Heather Milligan and her fiancé, David Bailey; seven great-grandchildren,
Lindsay and Aaron DuPriest and Dalton Rhoden, Shane and Sydni Sallee, and
Gage and Jacob Milligan.
Funeral services will be held on Tuesday, 29 May 2001 at 2:00 p.m. at the
Boston Avenue Baptist Church with Pastor Tim Perkins officiating. Internment
will follow in Memorial Park Cemetery with her grandsons serving as
pallbearers.
The family has entrusted the Lescher-Millsap Funeral Home with the
arrangements.

Notes: BTM] Norma Jean TOTTY was the daughter of Clifton TOTTY, s/o Robert Martin and Elizabeth (Carlton) TOTTY,
s/o A. C. TOTTY. According to the Hoyt Cemetery, Haskell County, OK records. A. C. TOTTY was born July 4, 1856 and died Sept 22, 1918. Robert Martin TOTTY had a sister Orlean TOTTY who married George M. Carlton, brother of Elizabeth Carlton TOTTY. I "wonder" if he is the same as A. O. TOTTY listed in the Roster of the 3rd Texas Cavalry, Co G, by Justin M. Sanders [Marion and Kaufman county men)? Who was A. C. TOTTY's parents, since Robert Martin TOTTY & his son Clifton named son's Adrain TOTTY, could the "A" be for the given name Adrain? Just a thought!
See also Haskell Co., OK.

Important: All Records collected for this county may not have been added here as yet. See also the TOTTY Research List
Archives.
To TOTTY Counties (TOTTY Roots Records Index)





Copyright Restrictions

Copyright Information and Restrictions: Our Totty Roots Research Reports have been provided for the free use of those engaged in NON-Commercial genealogical research by our Totty Roots Research Group. Any and ALL commercial use is strictly prohibited. These documents may be included in your own genealogy, however ALL these documents are copyrighted (to or by the authors to whom they are credited herin and copyright thereto) and may NOT be sold, nor given to anyone who may attempt to derive profit from these records.
Researchers may copy and distribute this work freely, but with the proviso that it may only be copied and circulated in its entirety -- including this notice, as well as all sources, bibliographies and credits. HOWEVER, permission is NOT Granted to copy ANY Totty Roots Research Files to other electronic locations - whether web pages or list postings.
Sincerely, The TOTTY Roots Research Group

Please email additions, corrections or questions to: totty-owner@totty-families.org
Remember the Research you SHARE today will help your Decendants in the Future

This page was last updated

Return to Totty Roots Counties (Records Index)

Return to Totty Roots Master Index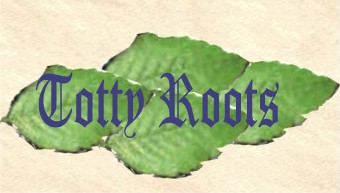 ALL Totty Roots Images created by Birdie (Totty) McNutt©
©1998-2009 Totty Roots Research Group*, ALL Rights Reserved.