| | |
| --- | --- |
| | Totty Roots |
Totty Tottey Tottye Totly Toty Tottie Tolty Tolly Tody Toddy Toddie &etc.
Index to Totty Roots Records of Kansas
(Digging for our Totty Roots and finding the leaves on our Totty genealogy tree)

You are the Welcome Visitor to this Site.

Dedicated to the Support of FREE Genealogy Research on the Internet
Do NOT Link these Web page's to any fee or pay sites!

IMPORTANT: See Copyright Restrictions violation's should be reported to totty-owner@totty-families.org


THANK you for stopping in to visit our Web Site! Take a look around and enjoy your Visit!

In the asking comes sharing;
in sharing comes knowledge;
in knowledge comes wisdom lasting a lifetime!





REMINDER: to Book Mark this Page!

Introduction

The Totty Roots Family Records and document pages is a collection of our TOTTY Roots mailing list records and research by the TOTTY Roots Research Group. If you have any records to would like to share with us, please contact our TOTTY Roots Administrator and Web Page Editor. We at TOTTY Roots are dedicated to protecting the rights and privacy of our living relatives. We encourage all involved in Genealogy Research to omit Vital information on any of our family members who are still LIVING, UNLESS you have their express and or written permisson. We need to protect our descendants, while we search for our ancestors. PLEASE do your part to protect and respect the privacy of everyone when placing information on the web.


Please Email Additions/Corrections to The Totty Roots Research List





Kansas was a part of the Louisana purchase in 1803. Government expeditions to the area reported it to be a desert, starting the myth of the Great American Desert. As the land was deemed unfit for white habitation, Indians from he East were moved into the area to live. Hostilities betweent he whites and indians increased when the Santa Fe Trail traversed the state beginning in 1821. To protect travelers, forts were established along the trail, beginning with Fort Leavenworth in 1827. Later, the Oregon Trail crossed northeastern Kansas.
Kansas remained unorganized territory until 1854 when the Kansas-Nebraska Act created the Kansas and Nebraska territories. Kansas had the same boundaries as today except that its western boundary was the "summit of the Rocky Mountains". The Kansas-Nebraska Act also stipulated that the people of a territory would decide by majority vote whether Kansas would be a free or slave state. This act stimulated migration to Kansas as both pro and antislavery forces tried to gain the upper hand. The violence that marked the years from 1854 to statehood in 1861 led to the term "Bleeding Kansaas". Kansas ultimately voted to be a free state. Many of the indian tribes in the state agreed to leave the state by 1867 and move to Oklahoma.

Totty Records in Kansas

Kansas Marriage Records

Copyright Restrictions

Copyright Information and Restrictions: Our Totty Roots Research Reports have been provided for the free use of those engaged in NON-Commercial genealogical research by our Totty Roots Research Group. Any and ALL commercial use is strictly prohibited. These documents may be included in your own genealogy, however ALL these documents are copyrighted (to or by the authors to whom they are credited herin and copyright thereto) and may NOT be sold, nor given to anyone who may attempt to derive profit from these records.
Researchers may copy and distribute this work freely, but with the proviso that it may only be copied and circulated in its entirety -- including this notice, as well as all sources, bibliographies and credits. HOWEVER, permission is NOT Granted to copy ANY Totty Roots Research Files to other electronic locations - whether web pages or list postings.
Sincerely, The TOTTY Roots Research Group

Please email additions, corrections or questions to: totty-owner@totty-families.org
Remember the Research you SHARE today will help your Decendants in the Future

This page was last updated

Return to Totty Roots Counties (Records Index)

Return to Totty Roots Master Index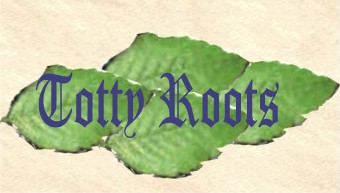 ALL Totty Roots Images created by Birdie (Totty) McNutt©
©1998-2009 Totty Roots Research Group*, ALL Rights Reserved.