| | |
| --- | --- |
| | Totty Roots |
Totty Tottey Tottye Totly Toty Tottie Tolty Tolly Tody Toddy Toddie &etc.
(Digging for our Totty Roots and finding the leaves on our Totty genealogy tree)


Navigation Bar
Totty Roots Visitor Center
Dedicated to the Support of FREE Genealogy Research on the Internet
Do NOT Link these Web page's to any fee or pay sites!
IMPORTANT: See Copyright Restrictions violation's should be reported to totty-owner@totty-families.org
You are the Welcome Visitor to this Site since Aug 2, 1999.
Don't forget to Bookmark your favorite site!

Our TOTTY Roots Surname Researcher's
&
Surname Researcher Email Address List
The Totty Research Email Address page is dedicated to all the Totty/Tottye/Tottie/Tottey/Toddy/Toddie etc. Family Researchers looking for their family or found on the Internet. If you are researching one of the previously named lines and would like to have your Name and email address added to this page so other researchers may possibly contact you about your Totty research, please send in and submit your information as described below
Listings will be alphabetical by Submiter's First Name
How To submit
your TOTTY & Totty Associated Families Researcher Information
SEND E-mail message to include:
1. Name
2. Email Address
3. Who you are looking for?
4. During What Time Period?
5. At What Place are you looking?
send your email message to the following address:
<totty-owner@totty-families.org>
after you have submitted your information
it will be added within one week or ASAP
We appreciate you patience.
This page was last updated

| | | | | |
| --- | --- | --- | --- | --- |
| Name, First Last | Email Address | Searching For | Time Period | Place of Residence |
| Your Name Here | Your Email Address | Who are you looking for? | During What Time Period? | At What Place? |
| Birdie McNutt | birdiem1@airmail.net | Totty, Rogers, Combs, Hoisington, Yandell, Easley, Andrews, Probasco, Carr, Marshall, | 1600-present | VA, NC, TN, TX, AR, OK, CA |
| Johnnye Totty | jtotty@ipa.net | Totty, Dance, Davis and Manuel | 1600-present | VA, TN, AR, TX, OK |
| | | | | |
Do you have a TOTTY Related QUERY?
if Yes, see below:
Totty Roots Visitor's Center
In the asking comes sharing;
in sharing comes knowledge;
in knowledge comes wisdom lasting a lifetime!
ATTENTION: Totty & Totty-Family Associated Researcher's
YOU CAN NOW
Send a E-Mail Message without joining the mailing list
IMPORTANT!! you don't have to be a member of our mailing list to share your TOTTY Related Research Records. YOU can email your TOTTY & Associated Totty-Families information, records, etc.,DIRECT to <webmaster@totty-families.org> and those records will be added along with the proper CREDIT GIVEN to the person submitting and sharing their TOTTY and/or TOTTY related information. You will receive a E-mail in return when any message is received, thanking you for submission of valuable research for our TOTTY Roots Web Pages. ANY and ALL TOTTY Related Research is most appreciated and WELCOME. PLEASE advise the Totty Roots WebMaster BEFORE sending attachments, if you "need" to send an attachment with your Genealogy Research, you will be given further instructions at that time.
You Can NOW Post the TOTTY families you are researching,
including your "brick wall",
by submitting Your QUERY
DIRECT to:
<totty-owner@totty-families.org>


How to Submit Your Query
When submitting your query please use this format:
| | |
| --- | --- |
| Your Name | Jane/John Doe |
| *Your Street Address | 5001 Avenue, Anywhere, USA 98005 |
| Your E-Mail Addess | jdoe@aol.com |
| Your Web Page Address | http://www.yourwebpage.aol.com/~jdoe/index.htm |
| Your Query | |
When writing your query please do not use all CAPSs, use all CAPS only for SURNAME's.
*It is important to provide your address because not everyone has email available
To submit your query send e-mail to: <webmaster@totty-families.org>
Favorite TOTTY Genealogy Links
Jeanne Rogers Web Page - Totty family genealogy
Meet my Dad - Patty Lee's home page for Delbert Chan TOTTY
Johnnye Totty Web Page - Totty family genealogy
Family Tree Maker - search Broderbund Software's Internet Family Finder for Totty
LDS Family Search- Great Site for "starter" place to do look ups on your Totty family -however all family research records are not fully documented.
Surname- Great Site for finding your surnames for research Plus our Totty families.
Combs Families Genealogy Research Group- Great Site to look up many families and their records PLUS lots more including some TOTTY associated records.

IMPORTANT: If you have a Web Site that includes any TOTTY surname Genealogical research and would like to be added to these links please send a email to: <totty-owner@totty-families.org>
to include the Web Page URL where those records are located, and it will be added to our TOTTY Roots Links above. Thanks
*NOTE: If any of the above LINKS do not work PLEASE email additions, correction or question to:

totty-owner@totty-families.org





TOTTY Roots Electronic LINKS
Our TOTTY Roots web pages, contain a variety of links to other web sites and references to other resources available through nonprofit, government, religious and commercial entities. These external links and references are provided solely for informational purposes and the convenience of the user. We at TOTTY Roots believe those who make information available on the Internet expect that it will be publicly and widely available, and therefore consider linking to other sites to be legally permissible and consistent with the expectations of those who use the Internet. If, however, access to a particular site should be restricted, the site administrator is asked to notify us promptly.
TOTTY Roots is NOT responsible for the content of sites not directly maintained by us. We have made a good faith effort to link only to appropriate sites, although some may contain inappropriate or objectionable material. If you find such material, please notify us immediately.
Web sites are constantly updated and moved, it is impossible to list all historical and genealogical web sites, and we do not guarantee that links from our site will be complete or accurate.
Other sites may collect data or personal information. Once you click a link to another site, YOU are subject to the policies and conditions of the new site. If you decide to access any site linked from the TOTTY Roots Web Page site, you do so entirely at your own risk.
All the materials at this TOTTY Roots site and any linked site are provided "as is" and without warranties of any kind, either express or implied. To the fullest extent permissible pursuant to applicable law. Totty Roots disclaims all warranties, express or implied, including, but not limited to, warranties of title and implied warranties of merchantability and fitness for a particular purpose.
The Totty Roots Research Group


Return to TOTTY Roots Master INDEX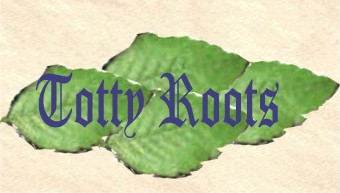 ALL "Totty Roots Images" created by Birdie (Totty) McNutt©

©1998-2009 Totty Roots Research Group*, ALL Rights Reserved.