| | |
| --- | --- |
| | Totty Roots |
Totty Tottey Tottye Totly Toty Tottie Tolty Tolly Tody Toddy Toddie &etc.
Totty Records of Ventura County California
(Digging for our Totty Roots and finding the leaves on our Totty genealogy tree)

You are the WelcomeVisitor to this Site.

Dedicated to the Support of FREE Genealogy Research on the Internet
Do NOT Link these Web page's to any fee or pay sites!

IMPORTANT: See Copyright Restrictions violation's should be reported to totty-owner@totty-families.org

THANK you for stopping in to visit our Web Site! Take a look around and enjoy your Visit!





REMINDER: to Book Mark this Page!

Introduction

The Totty Roots Family Records and document pages is a collection of our TOTTY Roots mailing list records and research by the TOTTY Roots Research Group. If you have any records to would like to share with us, please contact our TOTTY Roots Administrator and Web Page Editor. We at TOTTY Roots are dedicated to protecting the rights and privacy of our living relatives. We encourage all involved in Genealogy Research to omit Vital information on any of our family members who are still LIVING, UNLESS you have their express and or written permisson. We need to protect our descendants, while we search for our ancestors. PLEASE do your part to protect and respect the privacy of everyone when placing information on the web.





The County of Ventura was established in 1872 from Santa Barbara County California. The county seat is located in Ventura. Santa Barbara was the original county established in 1850 after the California Gold Rush. So far the only TOTTY connection found in Ventura County is the Great Uncle Asa Zibina COMBS of Birdie Totty McNutt.

1956 12th November - Wednesday - Ventura Star Free Press
Man's Body Found On Gaynor Ranch
The badly decomposed body of Asa Z.(Zibina] COMBS, 62, was found this morning in a car parked behind the house in which he resided on the Gaynor ranch, a half mile north of La Conchita on the Rincon, the sheriff's office reported.
COMBS had been dead about two weeks, according to Deputy Coroner Pat Sullivan, who listed the death as a suicide resulting from carbon monoxide poisonling. (According to a descendent, Asa had his hands tied behind his back when found)
Capt. Howard Bowman of the sheriff's said the body was discovered in the closed auto about 9 a.m. today by Fernando Ramirez, forman for Stacy Bates who leased the ranch for cattle grazing. The exhaust pipe of the auto had been connected into the trunk of the auto, and the auto switch was on, Bowman said.
Sullivan said no notes were found, but his office is inspecting letters found in the house for a possible reason for the death. COMBS as a former wife [Norma Dahl] and two daughters residing in Santa Barbara, Sullivan reported.
Transcribed by Birdie McNutt from Newspaper clipping sent to me by David Bronson.
Note: Asa Zibina COMBS was the son of Albert Grant COMBS & his first wife Cecilie BRONSON, and grandson of Peter Anderson COMBS of Kay Co., OK, Gibson Co., IN and Posey Co., IN. Asa was an excellant fiddler player and Carpenter by trade. He was the half brother of my grandmother Birdie Lorena COMBS HOISINGTON.

to be continued

Important: All Records collected for this county may not have been added here as yet. See also the TOTTY Research List
Archives.
To TOTTY Counties (TOTTY Roots Records Index)




Copyright Restrictions

Copyright Information and Restrictions: Our Totty Roots Research Reports have been provided for the free use of those engaged in NON-Commercial genealogical research by our Totty Roots Research Group. Any and ALL commercial use is strictly prohibited. These documents may be included in your own genealogy, however ALL these documents are copyrighted (to or by the authors to whom they are credited herin and copyright thereto) and may NOT be sold, nor given to anyone who may attempt to derive profit from these records.
Researchers may copy and distribute this work freely, but with the proviso that it may only be copied and circulated in its entirety -- including this notice, as well as all sources, bibliographies and credits. HOWEVER, permission is NOT Granted to copy ANY Totty Roots Research Files to other electronic locations - whether web pages or list postings.
Sincerely, The TOTTY Roots Research Group

Please email additions, corrections or questions to: totty-owner@totty-families.org
Remember the Research you SHARE today will help your Decendants in the Future

This page was last updated

Return to Totty Roots Counties (Records Index)

Return to Totty Roots Master Index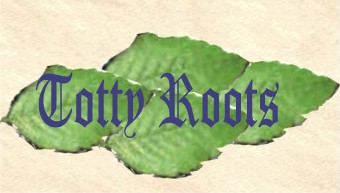 ALL Totty Roots Images created by Birdie (Totty) McNutt©
©1998-2009 Totty Roots Research Group*, ALL Rights Reserved.