| | |
| --- | --- |
| | Totty Roots |
Totty Tottey Tottye Totly Toty Tottie Tolty Tolly Tody Toddy Toddie &etc.
Pray for PEACE and our Troops -We ARE United
Dedicated to the Support of Free Genealogy Research on the Internet

Origin-Etymology of the Totty Surname
(Digging for our Totty Roots and finding the leaves on our Totty genealogy tree)
Names being very personal possessions makes it only natural that we would want to know something about the origin of our surname TOTTY. It was not until cira the Middle Ages that people used more than one name. Up until that time they had one name ie something to call them by, therefor no surname was in use. Later after the increased population, it became necessary to use surnames. The English Surname TOTTY is possibly of several different origins or classes. The Patronymic and hereditary origin, is created from the first name of the father or owner of the initial bearer to his heirs. Here the name may likely be as --Baptismal "the son of Otty or Otto." The personal name Otto was created from the Old Germanic "ode or Otto" meaning "riches". It is also possible that the named denotes "Son of Thjod", Thjod being an ancient Danish personal name. But possibly the Danish Thjod (v. Yonge, ii, 338). But far more probably the nickname. of Otty or Oddy, (q.v.), one of the most popular names of the time. Several Yorkshire font-names took an initial T as their nick name form before a vowell; such as of Tagg and Taggy for Agg and Aggy. Neverthe less, the instance recorded below, Robertus THOTTE, looks very like the Danish Thjod. Some believe that the TOTTY family originally may have been Danish Vikings. The Danes went to England during the eight and ninth centures, and were cousins of the Angles and Saxons. England was actually ruled by Danes for some twenty years during the early part of the eleventh century. The Danes were said to be a stronger, freer, and more adventurous people than the Anglo-Saxons. It is not known whether the TOTTY's were Danish Vikings, but it is a known fact that the Vikings did believe in loyalty, courage, and individual freedom.
Some early Records
Beatrix TOTTY, 1379: P. T. Yorks. p. 200
Willelmus TOTTY, 1379, ibid
The following pair are registered together:
Johannes TOTTY, 1379: P.T. Yorks. p. 215
Robertus THOTTE, 1379: ibid
Robert TOTTY, co. York, 1519
1572, June 18 James Bradlaye and Jaine TOTTEE -- married
1577, George TOTTIE and Eliz. Periman, widow: Marriage Lic. (London), i. 77.)
1577, Leonard TOTTY witness to the will of John Thwaites
1577, October 8 Ingram Pichersgill and Catharine TOTTY -- married
1577/8, March 21 John child Matthew TUTTE of Collane -- baptised
1582, October 5 William child Leonard TOTTYE of Gleadows --baptised
1583/4, January 14 Ursula child Leonard TOTTY of Gleadow -- baptised
1587, April 18 Margaret child Curthbert TYTTYE of Leeds -- baptised
1587/8, Robert Symson and Urcilye TOTTYE -- married
1789. Married -- John Byrne and Mary TOTTEY: St. Geo. Han. Sq. ii. 25 West Rid. Court Dir., I,O; London, I, O; Barsley, O, I; Boston (U.S.), 0, 2.
Sources: 1) A Dictionary of English and welsh Surnames by Charles Wareing Bardsley, Reprinted by Genealogical Publishing company, Baltimore, 1967, page 759; 2) Yong's (miss) History of Christian Names, 1863. (Quoted as Yonge, i,ii); 3) P.T. Yorks --Poll Tax West Riding of Yorkshire 1379. Published by the Yorkshire Archaeological Topographical Assoc. 1882. Quoted as P.T. Yorks) 4) Marriage Licenses - - 1520-1828. Allegations for marriage License issued by British of London. 5) Boston, U.S., 1886 (Sampson, Turlock and Co.) 6) Geo. Han. Sq. - - St. George Hanover Square (1725-1809 2 Vol), edited by John H,. Chapman.; 7) O-- Issues of the Exchequer. I-- English and Welsh Post Office Directories, etc.8) 2 (American Directories . 10) Thoresby's Society Printed Parish Registes of Leeds for baptisms, marriages, and burials for person with the name from 1572-1612; 11) Tottys & Totty Ties, A Family History 1685-1975, Written and Published by Alma Totty Seitz, Printed by Fugate Printing Co., Pampa, Tx 79065, page 241.




You are the Welcome Visitor to this Site since Aug 2, 1999.

Reminder: Don't forget to Click Reload or Refresh on your web browser.

Copyright Restrictions!

Copyright Information and Restrictions: Our Totty Roots Research Reports have been provided for the free use of those engaged in NON-commercial genealogical research by our Totty Roots Research Group. Any and ALL commercial use is strictly prohibited. These documents may be included in your own genealogy, however ALL these documents are copyrighted (to or by the authors to whom they are credited herin and copyright thereto) and may NOT be sold, nor given to anyone who may attempt to derive profit from these records.
Researchers may copy and distribute this work freely, but with the proviso that it may only be copied and circulated in its entirety -- including this notice, as well as all sources, bibliographies and credits. However, permission is NOT Granted to copy ANY Totty Roots Research Files to other electronic locations - whether web pages or list postings.
Sincerely, The Totty Roots Research Group

Please email additions, corrections or questions to: totty-owner@totty-families.org
©1998-2003 Totty Roots Research Group,* ALL rights Reserved.
(formerly Totty &t. Rootsweb Research Group)


Return to TOTTY Roots Master INDEX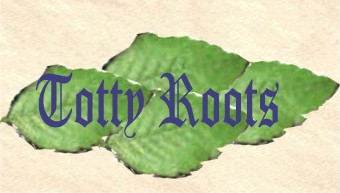 All Totty Roots Images created by Birdie (Totty) McNutt©

©1998-2009 Totty Roots Research Group*, ALL Rights Reserved.