| | |
| --- | --- |
| | Totty Roots |
Totty Tottey Tottye Totly Toty Tottie Tolty Tolly Tody Toddy Toddie &etc.
Pray for PEACE and our Troops

Totty Roots Favorite Links
Dedicated to the Support of FREE Genealogy Research on the Internet
Do NOT Link these Web page's to any fee or pay sites!
IMPORTANT: See Copyright Restrictions violation's should be reported to webmaster@totty-families.org

You are the Welcome Visitor to this Site since Aug 2, 1999.
THANK you for stopping in to visit our Web Site! Take a look around and enjoy your Visit!
REMINDER - Book Mark this Page!

*NOTE: If any of the above LINKS do not work PLEASE email additions, correction or question to:

totty-owner@totty-families.org





TOTTY Roots Electronic LINKS
Our TOTTY Roots web pages, contain a variety of links to other web sites and references to other resources available through nonprofit, government, religious and commercial entities. These external links and references are provided solely for informational purposes and the convenience of the user. We at TOTTY Roots believe those who make information available on the Internet expect that it will be publicly and widely available, and therefore consider linking to other sites to be legally permissible and consistent with the expectations of those who use the Internet. If, however, access to a particular site should be restricted, the site administrator is asked to notify us promptly.
TOTTY Roots is NOT responsible for the content of sites not directly maintained by us. We have made a good faith effort to link only to appropriate sites, although some may contain inappropriate or objectionable material. If you find such material, please notify us immediately.
Web sites are constantly updated and moved, it is impossible to list all historical and genealogical web sites, and we do not guarantee that links from our site will be complete or accurate.
Other sites may collect data or personal information. Once you click a link to another site, YOU are subject to the policies and conditions of the new site. If you decide to access any site linked from the TOTTY Roots Web Page site, you do so entirely at your own risk.
All the materials at this TOTTY Roots site and any linked site are provided "as is" and without warranties of any kind, either express or implied. To the fullest extent permissible pursuant to applicable law. Totty Roots disclaims all warranties, express or implied, including, but not limited to, warranties of title and implied warranties of merchantability and fitness for a particular purpose.
The Totty Roots Research Group


Return to TOTTY Roots Master INDEX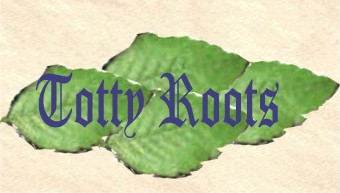 ALL "Totty Roots Images" created by Birdie (Totty) McNutt©
©1998-2009 Totty Roots Research Group*, ALL Rights Reserved.